About WeChat Marketing
Online Wikipedia, 2 years ago
5 min

read
104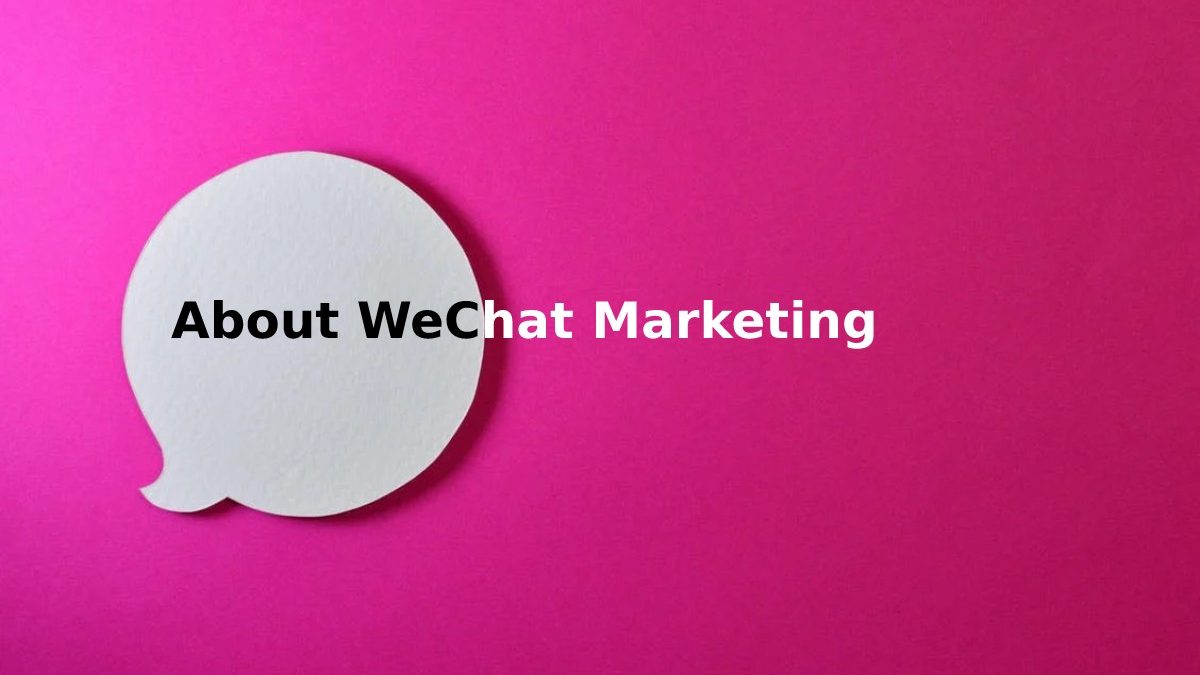 Introduction
WeChat is a multi-purpose social media, messaging and payment app developed in China. It's the largest social media platform in the country and one of the top 10 social networks globally.
In 2011, WeChat (Weixin in China) launched as a WhatsApp-style messaging app. It filled a significant gap in the world's largest social network market. Where many foreign-owned platforms like Facebook, YouTube and WhatsApp are banned.
WeChat is also popular in Mongolia and Hong Kong and maintains a foothold in Chinese-speaking communities worldwide.
Registered users can connect to the platform through their phones using the WeChat app or web. It's for the web and includes WeChat for PC and WeChat for Mac. But you might also hear it referred to as online or Web WeChat.
If you've not used it before, you might think it's just another online space where people talk to friends and share life snaps. But It's much more than that.
Users can send messages, hail a ride, pay for their groceries, keep fit, and book a Covid-19 test. And even access government services like visa applications. All without leaving the app.
No third-party click-throughs or complicated user journeys. Just one substantial captive audience and some super smart, integrated tech.
How does WeChat Work?
Over the last decade, It has sought to simplify daily life for its users. So much so that it's become a 'one-stop-shop for social and transactional moments in China.
Instant messaging is WeChat's core service. It's where the app started. And where it maintains its strongest hold over the social media market in China.
WeChat users can send instant messages in multiple formats, including:
Text messaging
Hold-to-talk voice Messaging
Group Messaging
Broadcast messaging (one-to-many)
Photo and video sharing
Video conferencing (live video calls)
Its messaging users can also share their location with their contacts. And send coupons and lucky money packages. And share files with people nearby via Bluetooth. In total, Their users send over 45 billion instant messages per day.
 Moments
Moments are social feeds where users can share updates of their lives with their friends. It's similar to Facebook's status updates. Their users can sync their Moments to Facebook, Twitter and other social media platforms they don't have direct access to from China.
WeChat moments sync to other platforms. One hundred twenty million WeChat users use Moments each day, and most check it every time they open the app.
Moments users can share images, text, short videos, articles and music. Like Facebook status updates, friends can react to others' Moments by giving a thumbs up. And also, leaving comments.
 News
Developed in May 2017, the news feed is most similar to Facebook's NewsFeed. It curates content posted by Subscription accounts (like media organisations) that users follow.
 Search
WeChat account holders can use Search to find content on the platform, including:
Mini-programmes
Official Accounts
WeChat Moments (via hashtags)
Content from the internet (via Sogou search engine)
In-app eCommerce platforms
WeChat Channels
Stickers for instant messaging
WeChat Channel
In early 2020, WeChat launched Channels. A new short video platform within it. Through Channels. WeChat's users can create and share short video clips similarly to close rival TikTok.
Users can find and follow content posted to Channels through their friends or influencer accounts. Channels posts can include:
Hashtags
A description
A location tag
A link to an Official Account
WeChat Pay
More than 250 million WeChat users have linked their bank accounts to WeChat Pay. Its payment gateway. With it, they can pay for pretty much anything anywhere in the country, including:
Bills
Groceries
Money transfers
eCommerce purchases
It includes Quick Pay, in-app web-based payments, QR code payments and native in-app payments.
Enterprise WeChat
In 2016, Tencent launched Enterprise to help users separate their work and social lives. Like Slack. It allows users to speed up and organise work communications.
Through Enterprise WeChat. Users can keep up to date with work conversations. And keep track of annual leave days. Log expenses and even request time off.
WeChat Mini Programmes
Mini Programmes are third party apps built into its interface. A so-called 'app within an app'. Its users can install these apps to gain access to more features. One of the most popular is a ride-hailing app similar to Uber.
By keeping these apps inside it. The platform maintains control over the user journey and directs payments through its Pay. Four hundred million users per day access its mini programmes.
Who owns WeChat?
WeChat is owned by the Chinese firm Tencent. One of the most valuable companies in the world. Current estimates put Tencent's value at USD 69 billion. Run by billionaire businessman Pony Ma.
For context, that's more than cosmetics giant Johnson & Johnson and only marginally less than Alibaba.
Both Tencent and WeChat are closely tied with the Chinese government. WeChat user data is tracked, analysed and shared with the Chinese authorities.
It has driven concerns internationally that it may threaten national security. These concerns prompted President Donald Trump's attempts to ban it in the United States between 2016 and 2021.
Current President-elect Joe Biden has since panned the idea. But it has previously been censored in Iran and banned in Russia.  Banned in India too.
So what does one of the world's most valuable companies do besides ruffle feathers in the oval office? And run China's favourite social network? Make video games, mostly. Tencent owns Riot Games and a large portion of Epic Games. The company that brought us Fortnight.
Related posts