Developers Choose Shopify for Ecommerce Business Startups
Online Wikipedia, 1 year ago
0
6 min

read
81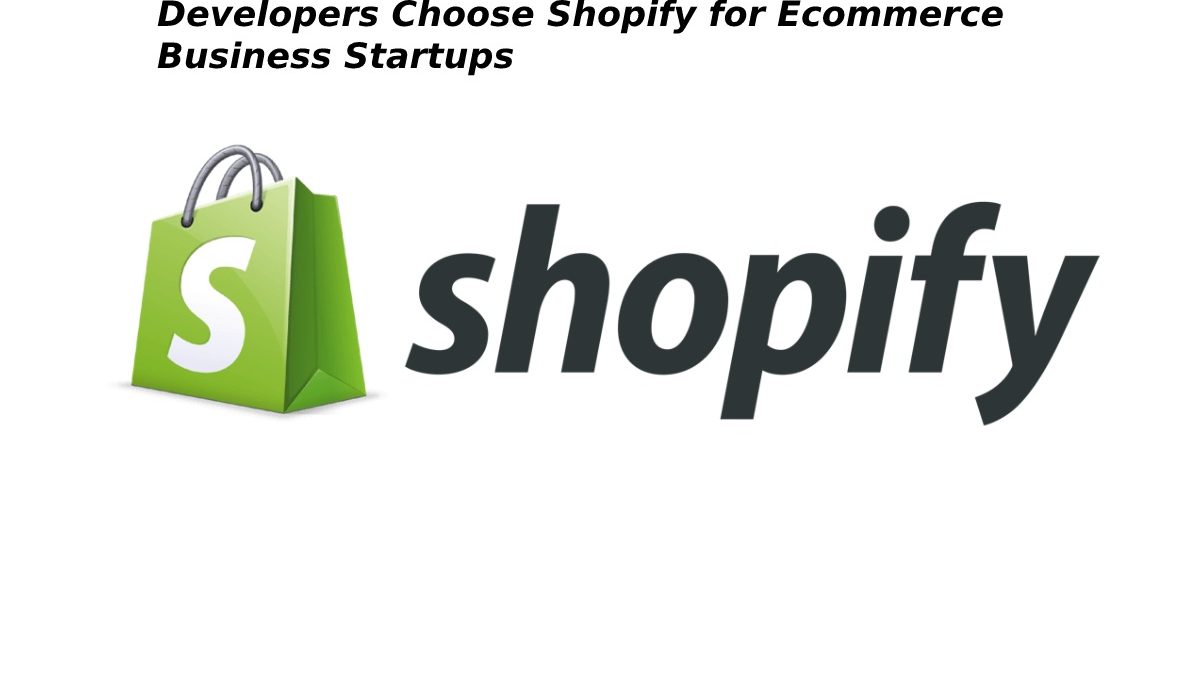 Introduction
Shopify is an eCommerce platform where you can create and manage your online store, with a custom domain, without starting from scratch. Each Shopify plan gives users an all-in-one experience, with website templates ready to set up and use.
You don't need to have any coding knowledge to implement the process of building a merchant site with Shopify, as the platform designed to create online stores allows you to create a personalized, professional, and engaging eCommerce site in less than a day.
So it's an excellent choice for beginners who have just launched their first eCommerce business, but it can also be suitable for seasoned e-merchants.
With a Shopify subscription, you have access to everything you need to start and run an online sales business, and you won't need to rely on external sites like eBay or Amazon to sell your products.
Now let's see in detail everything Shopify can offer you.
Why is the Shopify platform an excellent choice for creating an e-commerce site in 2022?
To answer this question, we will introduce six essential features and functionality that make the platform an ideal solution for selling online.
Setting up your Shopify store
One of the main reasons so many business owners chooses Shopify is the ease with which it is possible to set up your online store on the platform, following just a dozen quick and easy steps.
All you have to do is upload your product listings, customize your website content for your brand, and keep your account and payment information up to date. Shopify takes care of the more complex parts of website building for you.
The platform even enables your free SSL certificate by default, so you won't have to spend hours on Google to figure out how to secure your e-shop manually.
If you purchase a custom domain name directly from Shopify, it will instantly activate your account. And even if you buy it from a third-party platform like Google Domains, you'll be able to easily follow the step-by-step process Shopify has put in place to connect your domain in minutes.
Features For The Performance Of Your Online Sales Site
Your Shopify store comes with many features that will help you make your e-commerce site as user-friendly as possible, at faith for you and your customers.
Here's what you can do with this e-commerce solution:
Get performance analytics and critical data through detailed reports
Customize your payment process and adapt it to mobile support
Create customer profiles to facilitate your marketing actions
Access Shopify "POS" (its POS system) for in-person events
Sell products across multiple sales channels, including Amazon, Facebook, and Instagram
In addition, Shopify's App Store offers more than 1,000 plugins (many of which are free and open-source) that you can use to integrate chatbots, accounting tools, social media apps, and customer loyalty tools. CMS (content management system), and much more on your site.
Features For Your Marketing Action
Shopify's marketing features make the platform tailored to the needs of e-merchants.
Here's what you'll be able to do with Shopify in the field of marketing:
Create customer profiles to target your audience better
Boost your search engine optimization (SEO) with a built-in blog, meta descriptions, etc.
Launch email marketing campaigns directly through Shopify
Please send emails to retarget customers who abandon their cart
Create discount codes for your customers
Get rich data/analytics on all the activities, sales, and marketing campaigns you run with Shopify.
You'll even be able to connect your Facebook and Instagram social media accounts to your Shopify account to advertise and create campaigns from Shopify's back-end.
Customer Support
The platform offers 24/7 support with all of its pricing plans. Whenever you encounter technical difficulties with your store or have a question, you can chat with a team member in real-time.
It is a huge asset for small businesses that don't have dedicated developers or website managers. It is also possible to access a forum and a support centre.
Payment Process in Shopify
Ultimately, any online store manager wants to make money and grow their turnover over time. To maximize your efforts and profits, you need to ensure that your eCommerce platform offers reasonable transaction fees and allows payment methods that make your customers' lives easier. With Shopify, you tick both of these boxes.
Transaction fees are usually much lower at Shopify than what you'll find on platforms like Etsy or Amazon Handmade. If you use Shopify Payments, which saves you from setting up a third-party payment processor, you'll only have to pay the standard rates for card payments and won't pay any transaction fees.
You'll be able to accept most major payment cards, like Apple Pay and Google Pay. If you accept payments through other popular providers, such as PayPal, you will only have to pay an extra 0.5-2%.
Shopify Themes
An essential part of setting up an e-commerce website is its graphic design and organization. If you want to attract customers, you need to make people want to shop on your site. Which must be organized, attractive and respect your brand image.
Shopify excels at design. The eCommerce platform offers attractive, varied, and mobile-friendly Shopify themes. You will be able to find many free themes and premium themes designed especially for your industry.
Shopify themes also perform well in terms of grip and ease of use. You have to drag and drop the different elements you want to put on your pages to fill your online sales site with your products and logo.
2 Things to Consider Before Choosing Shopify
As we've seen, Shopify is a unique e-commerce solution, but you'll need to consider a few crucial things before officially building your store on the platform.
Limited Customization
While Shopify offers quite a few customization capabilities. The platform is still limited at this level, especially if you don't know how to code. For example, you won't be able to add new sections to your product pages.
However, this disadvantage is not insurmountable if your business does not require significant customization work.
The Price of Shopify
Before you get started, one major thing to consider is Shopify's subscription fees. Depending on the nature of the business you set up, the costs can be pretty high. The basic plan is $29 per month and climbs to $299 per month for a more competitive program.
For a Shopify Plus plan, you'll have to shell out a minimum of $2,000 per month. But again, Shopify offers all-in-one packages, so what you pay extra will bring you a lot of additional features. And, most importantly, less hassle.
Conclusion
The good news is that Shopify offers all new users a 14-day trial for free, giving you time to see if this platform is a perfect fit for your business goals.
Related posts